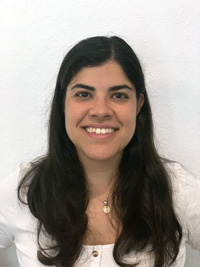 Larisa Garcia-Ramonda Estevez
Dr Larisa Garcia-Ramonda is a post-doctoral Researcher at UPC-BarcelonaTech. She is a Civil Engineer from the National University of Rosario (UNR) of Argentina and holds a joint Erasmus Mundus MSc on the Structural Analysis of Monuments and Historical Constructions (SAHC) from University of Padova and UPC-BarcelonaTech. She earned her PhD in Construction Engineering from UPC-BarcelonaTech in 2020.
Her research focuses on the inspection, diagnosis and structural analysis of existing structures. She works on the use of innovative materials for seismic strengthening and repair of masonry structures. Her skills span across on-site testing, material characterization of masonry, design and execution of experimental programmes, SHM, and numerical modelling of structures. She has participated in two national research projects and RDT project.