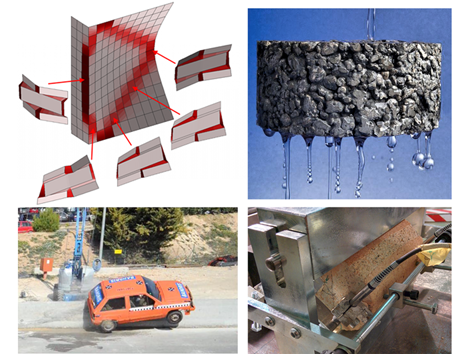 Four PhD students working with the STRUCTECH research group completed their PhD theses in April-May:
– "Computational multiscale analysis of masonry structures" by Massimo Petracca (UPC-UNICH). Supervisors: Luca Pelà , Guido Camata and Riccardo Rossi.
– "Advanced Minor Destructive Testing for the Assessment of Existing Masonry" by Diego Marastoni (UPC-UNIBO). Supervisors: Andrea Benedetti & Luca Pelà .
– "Design of a new in-situ continuum concrete barrier" by Jordi Cañas (UPC). Supervisors: Antonio Aguado & Albert de la Fuente.
– "Characterization and modelling of pervious concrete" by Ricardo Pieralisi (UPC). Supervisors: Sergio Pialarissi & Antonio Aguado.
The full-text documents of the theses will be soon downloadable from our website: http://www.atem.upc.edu/?page_id=2330
Congratulations to the new PhDs!